Fonza beach
Fonza beach Tourist information
Beach of smooth gravels mixed with sand within the Municipality of Campo nell'Elba
Features of Fonza beach
Length: 150 meters - Average width: 15 m
Exposed to: Western winds
Sheltered to: winds from North to South-East
GD: 42.74537 - 10.264417
GMS Latitude: 42 ° 44'43.333''N - Longitude: 10 ° 15'51.9''E

---
Description of Fonza beach
The beach of Fonza is always popular among those who loves peace. It is a natural environment devoid of buildings, enclosed by one of the wildest areas of Elba Island: Mounts Tambone and Fonza. The sandy shore overlooks the wide gulf of Marina di Campo, between the capes of Nercio and Mete. The beach is not easy to reach by land, reason why it still remains uncrowded.
The easiest thing is to reach it by boat, even a small one, maybe rented at one of the several rentals that you can find in the nearby Marina di Campo, which also gives you the opportunity to enjoy the show of the nearby coast full of picturesque bays and coves.
The beach is splitted in two by a small rocky outcrop used to dip and it is composed primarily of gravel smoothed by the sea mixed with fine sand. One side of the shore has been equipped as dog beach. It is also ideal for snorkeling, especially along the two ends of the bay where the bottom becomes rocky and interesting to visit. On this side the coast is full of cliffs frequented by those who prefer the rocks to the beach.
Access to the beach of Fonza
You can reach the beach by boat or car driving along a dirt road from the crossroad that leads to the Hotel Marina 2, there follow the signs to Segagnana, which lead you through a dirt steep road. The way is surrounded by the Mediterranean maquis and you can enjoy a wonderful view from the top of Mount Fonza, overlooking the whole gulf and beach of Marina di Campo. After about 1.5 km the road begins to go down showing you the beautiful bay of Fonza.
Approaching the sea a dirt path connects you to the beach, while you have to park the car along the dirt road.
Amenities available on this beach
| | | | | | |
| --- | --- | --- | --- | --- | --- |
| | Free beach | | Limited Parking | | Not accessible by car |
| | Pebble beach | | Pets Allowed | | Snorkeling |
| | Unfrequented | | Watersports | | |
Select all
Hotels
a Marina di Campo
Via per Portoferraio, 39 - 57034 Campo nell'Elba
Camping sites
a La Foce
Via del Monumento 628 - 57034 Campo nell'Elba
Online availability request
Elbaworld suggests
Discover places and attractions nearby.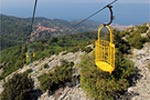 Discover incredibly beautiful excursions on Elba Island.