Nightlife
Elba Island has always been a place for fun holidays, especially during summer, with a great number of venues open in the months of July and August. In this period there are many celebrations and beach parties, in addition to outdoors concerts which are generally free and take place in the squares of the villages or in the major beaches of the island, such as the ones of Marina di Campo and Procchio.
In Elba you will surely find the right place for your needs, where you will have fun, meet new people, or chat with your friends in a nice and relaxing venue; drink and taste some of the best cocktails and long drinks in the island as well as listening to some good live music and dance.
In the summer season there are many chances to have fun and choose among the various venues where to spend a nice and enjoyable evening. Just before the night falls, after a long day at the beach and before going for dinner, it is nice to relax and enjoy an aperitivo in one of the several bars that offer excellent appetizers with chance to have an "apericena" thanks to the numerous and delicious food offered.
The most popular places to have an aperitivo in Portoferraio are il Baretto and the historic bar Roma located in the old town, il Tamata in Porto Azzurro, Il Baobab, il Veliero and il Pinpa in Marina di Campo, il MagoChiò in San Piero, La Perla and La Torre in Marciana Marina or il Controvento, il Cubalibre and Bar Rodriguez that are all three located in Matteotti Square in Capoliveri.
While if you wish to have an aperitivo by the beach, on a more relaxing atmosphere during your romantic holiday, we suggest you to visit one of the many beach resorts of Elba which generally include a bar among their services.
Gorgeous is the evening scenery at sunset for a romantic holiday; in particular, unsets on the north western coast are unique and stunning with the sun setting right on the sea offering beautiful and always different colors in the sky.
After dinner, that you have maybe spent in one of the many restaurants of Elba, we suggest you visit the village of Porto Azzurro and its many bars and pubs, Garden Beach and Pinpa in Marina di Campo where you will taste delicious cocktails and listen to some good live music.
If you are in Capoliveri it is certainly worth visiting the historic Pub le Piccole Ore.
To continue the evening there are disco pubs, discos and piano bars located predominantly in the middle of Elba, of which a good part are in the municipality of Campo nell'Elba. Ex Tinello Disco Pub (Buttefly), Giannino Live Music and Disco Club 64 are definitely places that do not disappoint, always very crowded in high season, for late nights in the company of your friends.
Elbaworld suggests
Discover places and attractions nearby.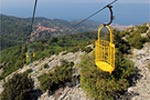 Discover incredibly beautiful excursions on Elba Island.