Elba Beer
In recent years, on the Elba Island, have opened several brewers producing a craft Elbe beer with intense and traditional taste. For who wants to savour these typical Elba beers, just has to go to any bar and request it. Alternatively, to go directly to producers.
The success of these products is definitely the love and dedication for the work that led to the results of an undisputed success. The breweries select raw materials with due attention, such malt from the best of European malt producers and buy hops around the world and also are always looking for new flavours and aromas
Elbaworld suggests
Discover places and attractions nearby.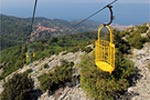 Discover incredibly beautiful excursions on Elba Island.