Giglio Island
Giglio island belongs to the Tuscan Archipelago with a typical Mediterranean climate characterized by long and moderately warm summers. Its territory covers 24.01 km², it is mostly characterized by hills reaching the maximum height of 496 meters on top of Poggio della Pagana. Its coastline measures 27 km and offers many impressive cliffs, while on the eastern side there are some sandy bays like Caldane Cove, Cannelle Cove and Arenella Cove located near the village of Giglio Porto. This is the island's main harbour and destination of ferries leaving from Santo Stefano Port. The route, appreciated by many tourist during summer, lasts about 60 minutes.
The island is characterized by a main road well connected by bus, so it is better to leave your car at the harbor parking lot, or even better, avoid embarking it on the ferry as public transports are very frequent and efficient, connecting the location of Giglio Porto to Giglio Castello and Giglio Campese.
Giglio Castello is a charming medieval borough, situated in a panoramic position inside a surrounding wall. The narrow lanes within the fortification can be visited only by foot. Nearby, ancient mule tracks and trails go through the vineyards unto the inhabited hamlet of Giglio Campese, which is located in the northwestern area. By this side a mighty tower dominates a small sandy bay, where you can find the main tourist services during summer season.
---
Province: Grosseto
Coastline: 27 km
Area: 24.01 km²
Municipality: Giglio Island
Maximum Altitude: 496 meters Poggio della Pagana
Position: Latitude North 42 ° 21'56 '' - Longitude: East 10 ° 54'06 ''
Distances: 15 km from Argentario
Elbaworld suggests
Discover places and attractions nearby.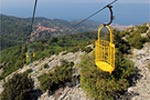 Discover incredibly beautiful excursions on Elba Island.