Tennis
Several hotels in Elba island have got tennis courts where having fun and taking lessons with
Tennis Italian federation
(F.I.G.T.) teachers during your holiday. Elba's tennis courts are in red clay or synthetics and for those who aren't staying in a facility with a tennis court it will be possible to play tennis in one of the several
tennis clubs
of the island.
It's said tennis is a sport with roots in latin games and in the French game called jeu de paume, basically an evolution of ballgame with the need of a racket. The game sees two opponent players ( singles) or four players (doubles).

Players use a polymeric light racket to hit the ball and send it on the opponent half travelling over the net placed in the middle of the court , which is 23.78 mt long and 10.97 mt wide.
The net is stiff, made of horizontal and vertical cords knotted together, secured to the headband, and it's 9.14 mt long, 1.07 mt high at net posts and 0.914 mt in the center.
The object of the game is to hit the ball so that the opponent , on the other side of the court, won't be able to hit it back after the first bounce or they will hit the net failing to send the ball back on the opposite side of the court.

Information on Tennis Club in Elba island

Tennis Courts in Portoferraio
• Tennis Club Isola d'Elba - Località San Giovanni - Tel. (+39) 0565.915366

• Agriturismo "Due Palme" - Località Schiopparello - Tel. (+39) 0565.933017

Tennis Courts in Campo nell'Elba

• Tennis Club Marina di Campo - Località Sighello - Tel. (+39) 339.6904930

• Stabilimento balneare Pino Solitario - Località Fetovaia - Tel. (+39) 0565.988037

• Hotel dei Coralli Marina di Campo - Tel. (+39) 0565.976336

Tennis Courts in Marciana Marina

• ASD Sporting Club Marciana Marina - Viale Aldo Moro - Cell. (+39) 329.9690629

Tennis Courts in Porto Azzurro

• Longone Tennis Club - Località Longone - Tel. (+39) 0565.957845

• Tennis Club Porto Azzurro - Località Santissimo - Tel. (+39) 340.6265104

Tennis Courts in Rio nell'Elba


• Tennis Club di Rio nell'Elba - Tel. (+39) 328.8087043
Elbaworld suggests
Discover places and attractions nearby.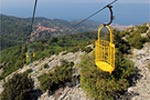 Discover incredibly beautiful excursions on Elba Island.