Markets at Elba
On Elba Island, you can go shopping in one of many daily city markets, which take place always in the morning. In these markets, the many street vendors offer various items to be purchased as clothing, household articles and food products as salami, fruits and vegetables often coming to kilometre zero.
The Elbe markets take place in the central squares of the various villages on specific days that we list below, and remember, that except for special occasions these markets take place always in the morning from 8:00 to 13:00
The Markets of the Elba Island
Monday: in Rio Marina in the old town, Piazzale at sea
Tuesday: in Rio Nell'Elba and Marciana Marina
Wednesday: Marina di Campo in Piazza dei Granatieri and at Cavo in Piazza Kennedy
Thursday: in Procchio in the municipal parking and Capoliveri in Piazza Matteotti
Friday: in Portoferraio in via Buozzi
Saturday: in Porto Azzurro in Piazza De Santis and in Procchio (Slow Food Earth Markets)
Sunday: in Lacona.
In addition to traditional markets, you can buy gifts and local crafts in one of the many evening markets that may be encountered in the various villages of the Elbe. These markets take place mainly in the summer evenings from 20:00 to 24:00 often placed in the heart of historic centres or on the seafront.
Elbaworld suggests
Discover places and attractions nearby.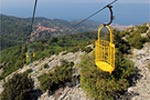 Discover incredibly beautiful excursions on Elba Island.