Where to go if it's hot
Summer can be very hot and if you particularly suffer from the heat, we suggest you to go to high ground, besides a refreshing bath in the sea where the cool breeze can help you cooling down the body temperature.
Maybe visit the boroughs of Poggio and Marciana which, thanks to their altitude and chestnut forests surrounding them, are characterized by a lower degrees temperature allowing you to breath better as sultriness almost disappears.
Nearby you could also visit the ancient spring of Napoleon where flows fresh drinking water.
Once visited the two villages, you could continue your route up towards Mount Perone along a paved narrow street which crosses a chestnuts and pines trees maquis. There on the panoramic top you could stop and enjoy having a pic-nic.
Hiking down on the opposite side, you will first encounter the San Giovanni Tower and then visit the villages of Sant'Ilario and San Piero, considered the heart of the Elban granite characterizing the street, the squares, and the houses arcades.
Elbaworld suggests
Discover places and attractions nearby.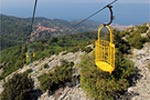 Discover incredibly beautiful excursions on Elba Island.