Alternatives to the beach
For those who are tired of the sea and the beach and are looking for a valid alternative activity in Elba, below we will suggest a series of things to do and to visit while you are on holiday in the island.
The hinterland encloses like a hidden treasure the ancient millenary history of Elba, which can be appreciated by discovering the many monuments and remains that are scattered all around the territory.
Besides, you can visit one of the many thematic museums in Elba, dedicated to archeology, minerals, as well as those where you can find evidences of old treasures that got lost and then found in the sea.
For those who love nature,we suggest to go hiking through the Mediterranean maquis along one of the many signposted trails. You can restore and relax simply by taking a walk, a panoramic excursion, trekking and even mountain biking. In the Elba's hinterland there are also the highest mountains, and surely a valid option would be to take a day trip to Mount Capanne which, measuring 1019 metres, is the highest top of the Archipelago. In the clear days you will be able to enjoy breathtaking view from its top and see far away horizons.
A boat trip is also a great alternative to the beach and you will still be able to enjoy the sun and the sea, but away from the beaches that can get too much crowded in summer. In addition to the most famous day trip around the island with a boat, or the excursion towards Pianosa Island or other islands of the Tuscan Archipelago, there are many daily boat trip which will lead you to the discovery of stretches of coast and isolated beaches.
For those who love animal, there is the aquarium of Elba, which is very suitable also for children or take a mine tour with a little train along a fascinating trait of the mine and have fun searching for some minerals equipped with pickaxe.
Elbaworld suggests
Discover places and attractions nearby.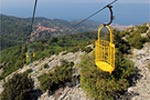 Discover incredibly beautiful excursions on Elba Island.