Which accommodation?
Are you planning your holiday in Elba but you don't know yet which accommodation to choose and feel uncertain?
No worries, we will help you choosing the best option according to your needs. On this web portal we have various types of accommodation ranging from Bed & Breakfasts, fully serviced Hotels, family run hotels,holiday Houses, Apartment for Rent, Villas, Tourist Agencies, Agritourisms, and Campsites. You just have to choose the ideal solution to please your holiday in Elba. We will try to help you choosing the right type of accommodation for you.
If you are alone, or with your partner, or maybe you have a limited budget, one of the best solution is to rent a small apartment, such a one or two bedrooms flat, a bed & breakfast, or a campsite with tent and sleeping bag for those who love adventures.
If you are a couple looking for peace and quiet the ideal solution for you would be to rent a holiday house, or a small villa with private garden, else if you prefer to be serviced, the best option is surely a Hotel. You can choose among different ranges of Hotels, from Bed & Breakfast until multi stars fully serviced Hotels ideal for your satisfaction.
If you love nature and local products, agritourism and agri campsites will be the right accommodation for you. Here you will be able to taste the authenticity made in Elba, in a familiar and agricultural environment and appreciate traditions and local specialties to discover Elba a bit more in depth.
If you are young and in a large group probably campsites would be the most indicated alternative for you. In addition to campsites, apartments for rent are also very much looked for by young people spending their holiday in Elba.
Else, if you wish to spend your holiday with your family in Elba, you will find various accommodations suiting your needs. We suggest you Residences as they have apartments which may offer many added services including serviced area, games and entertainment for children and often swimming pool. Another valid option are apartments for rent and holiday houses with outdoors spaces to relax.
For those tourists who don't want to have problems or surprises, we always recommend to book their holiday through a travel agency so to have some sort of insurance and a 24/7 contact person.
We remind you that the accommodations that you will find on our website are real structures which have been selected by the Elbaworld staff, so as all the apartments for and holiday houses that are directly rented by the owners without intermediation or travel agencies.
We wish you to have a nice holiday in Elba Island.
Elbaworld suggests
Discover places and attractions nearby.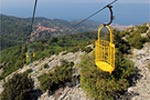 Discover incredibly beautiful excursions on Elba Island.