Which beach?
In the section about the beaches of Elba, we have divided the beaches in different categories according to their conformation, typology, access and services. The categories are the following:
Sandy beaches
Gravel beach
Rocks and cliffs
Equipped beaches
Wild beaches
Beaches for kids
Beaches for young people
Beaches for disabled
Beaches for nudist
beaches for dogs
West side Beaches
East side beaches
Southside beaches
North side beaches
Choosing the beach according to the wind
Besides this categorization of the Elban beaches, we provide you some important suggestions to lead you to your dream beach.
if you wish to find a clear and clean sea, it is useful to know that during the high season the winds strongly influence the transparency of the sea. When the northern winds blows, for example the mistral, wind from north-west which is very frequent during summer, it is better to choose one among the right beaches for your needs on the southern coast of Elba.
This is because the wind coming from the north pushes outwards bringing with it also the most polluted water caused by the high concentration of people together in the sea moving the seabed, especially in the case of sandy beaches.
On the contrary, when the air feels hot and wet, it means that there is sirocco , a humid and warm wind that blows from south east. Under this condition, especially if the wind lasts several days, we strongly discourage you to choose the beaches on the southern coast, and rather choose those located on the northern coast of Elba, where the sea will be clear and clean.
Elbaworld suggests
Discover places and attractions nearby.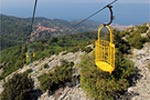 Discover incredibly beautiful excursions on Elba Island.