Portoferraio Duomo
Portoferraio Duomo
is consecrated to the
Nativity of the Virgin Mary
and it was built thanks to
Cosimo I de' Medici
in 1549. In the same year started also the construction of the Medici walls.
The Duomo is in
Piazza della Repubblica,
in the city center of Portoferraio, and it was consecrated in 1554. Initially it had one navy, but then it was enlarged and modified more than once from the XVII century. A first enlargement was in 1623, a second in 1700 and a third in 1950.
In 1566 it was founded the
Confraternity of Reverend Mercy
and the 4th of May 1814 was celebrated the
Te Deum.
With this ceremony Napoleon, exiled in Elba Island, became the sovereign of the island.
Under the French domain the
Opera della Chiesa Parrochiale
was founded (its first president was
Giuseppe Ninci
) and on that occasion the precious marble major altar was taken there. Originally it was in Mount Carmin church, built in 1616 and then deconsecrated and transformed into a theatre by
Napoleon.
Inside, the Duomo preserve a precious visitation of
Domenico Cresti
and on the altar it is possible to admire a XVI century wooden crucifix.
Elbaworld suggests
Discover places and attractions nearby.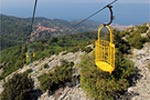 Discover incredibly beautiful excursions on Elba Island.