Church of St. Rocco
The
Church of St. Rocco
is a sacred building located in the historical centre of the town
Rio Marina.
Built in the second half of the 16th century with the help of
Lords of Piombino Ludovisi Boncompagni,
who had the initial purpose of providing a place of prayer to the many miners who came from the Mainland to work in the nearby mines of Elba.
Until 1840 was a simple chapel, which depended on the Church of St James and Quirico of Rio nell'Elba and that, after the independence of the town Rio Marina and the increase of importance of the new coastal town of Elba, was converted into a parish church.
Located in the historic centre of Rio Marina in Via Magenta, opposite the public gardens, it has a Latin cross plan with a single nave with a low bell-tower.
Elbaworld suggests
Discover places and attractions nearby.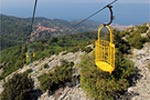 Discover incredibly beautiful excursions on Elba Island.