Our Lady of Mount Carmel Church
Our Lady of Mount Carmel church
is in
Porto Azzurro
and was built by fishermen for the inhabitants of the shore. They couldn't enter the church within the fort in the evening. In 1752 the church obtained (thanks to the request of the priest of
Saint James Major church
) a chaplain, with the concession of the King and the Archbishop of Naples. This event made the church even fuller of fishermen.
ORATORY OF THE SACRED HEART OF MARY
In the XVIII century, near the little
Our Lady of Mount Carmel church,
was built an oratory, initially with a portico. Inside there are two works of art: a painting with the Madonna kneeling near the Cross, and on the altar, a depiction of a red heart on a black background.
Elbaworld suggests
Discover places and attractions nearby.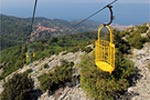 Discover incredibly beautiful excursions on Elba Island.