Saint James Major Church
Saint James church
was completed in 1656 and renovate in 1720 with Catalan Baroque decorations destroyed in the XX century. The most recent fresco walls are by the Elban painter Eugenio Allori.
In the church there are a canvas of
Saint Barbara
with the fort in her hands, a silver chest of the same Saint, painting with Saint Joseph and Saint Simeon. Moreover, there are commemorative plaque of the Spanish generals who command Longone square.
It is a church recalling the Spanish Baroque church in shape and structure.
Elbaworld suggests
Discover places and attractions nearby.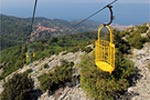 Discover incredibly beautiful excursions on Elba Island.