The church of Santa Caterina in Marciana at the Isle Elba
The
Church of Santa Caterina
was built in the XVI century, above an older chapel that was inserted in a new built chapel. The Church enbarks on a little square, paved by granite and from this square begins some staircases that to the old city center of
Marciana
bring.
The center of the main facade, about the clock, is placed a squared bell tower dominating the whole valley. The Church of Saint Catherine Virgin and Martyr is one of the biggest Churches of the isle, and is characterized by a three central nave building. The Church develops it-self in height and is covered by a sailing and a cross structure.
Above the side walls it is possible to observe the eight altars made by marble stones. The baptismal bath is sculptured about granite stone and situated inside the Church, was built in 1435. Above it is placed a little seventieth statue, that was realized in gold wood.
Elbaworld suggests
Discover places and attractions nearby.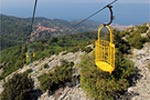 Discover incredibly beautiful excursions on Elba Island.