St James Church
San
Giacomo the Apostle Church
, or Saint James the Apostle and Quirico Church, was built during the time in Pisa in the 14th century. Located in Via Guglielmo Marconi 1, perfectly inserted in the whole residential area's defensive architecture of the historic centre of Rio nell'Elba, is characterized by a three-nave building which shows its medieval origins, although today it is changed by the various successive restorations, which give it an eighteen-century appeareance.
Inside the Church, characterized by marble tombstones, altars and many sacred silver, it is possible to admire an excellent workmanship painting of the seventeenth century made by Giovanni da San Giovanni, representing the mystical Marriage of Saint Catherine.
Elbaworld suggests
Discover places and attractions nearby.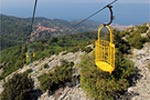 Discover incredibly beautiful excursions on Elba Island.