Mineral Museum Alfeo Ricci
The Elban Mineral Museum is in Capoliveri, in Via Palestro. Here you can see many minerals coming from different areas on Elba Island, many of them from the Western mineral area of the island.
The museum presents mineral samples of extraordinary beauty, rarity and scientific value, and the Alfeo Ricci's Collection. He is a scientist who collected and studied, until the '60s of the XX century, the wonderful Elban minerals and his collection consists of more than 700 pieces so far, including the rare Quarzo Prasio, (quartz).
It is worth to see also the Magnetite polarizzata (magnetite) from Calamita mine and the Calcite a rosette con epidoto (Calcite) a sample of crystallization which is unique in the world, found in Ginevro mine in Calamita, close to Capoliveri.
Information about Elban Mineral Museum
Opening Hours

From 15th April to 15th June - 10:00-13:00/16:00-20:00

From 16th June to 7th September - 10:00-12:30/19:00-24:00

From 8th September to 31st October - 10:00-13:00/16:00-20:00

Prices

€ 2,00 Full price

€ 1,00 Discount

Location and Info

Via Palestro - Capoliveri downtown

Comune di Capoliveri Tel.(+39) 0565.935492
Elbaworld suggests
Discover places and attractions nearby.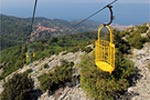 Discover incredibly beautiful excursions on Elba Island.