Rural art Museum
The rural art museum is in Marciana and it stores finds and materials of Elba island rural culture. There are several tools of various nature displayed in the museum, which represent the old rural culture, such as the interesting tools for making wine. The exhibition is completed by scale models, copies and drawings documenting several rural activities.

The museum is inside an old windmill, where there are tools used by farmers that have been donated to the town of Marciana. The museum offers a record mostly on how to farm a vineyard , which in the past was the main economic activity on the west side of Elba Island, witnessed by the terraces still visible in the area.
Information on rural art museum
Opening times

April, May, June and September 9:30-12:30/16:30-19:30

Tuesday closed

Always open in July and August 9:30-12:30/18:00-23:00

PriceS & Info

€ 2,00 Full Price- € 1,50 Reduced Price - € 1,00 Schools

Ph.(+39)0565.901215
Elbaworld suggests
Discover places and attractions nearby.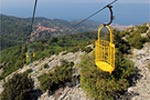 Discover incredibly beautiful excursions on Elba Island.