Agricultural Museum
In the '80s of the XX century the Sapere family, owner of the ancient farm company on Elba, opened the Museo Agricolo dell'Arte Contadina, the Agricultural Museum, to the visitors and today it is possible to see the private collection of items, tools, utensils which were used in viticulture and wine production.
Besides farm utensils, there are also handicraft tools including blacksmith and carpenter's equipment, and in total the collection includes around 250 items.
Information about the Agricultural Museum
Opening Hours

Free Entrance all year long

10:00-13:00/ 14:30-18:00

From 1st July to al 31st August: 14:30-22:00

Location and Info

Mola - Porto Azzurro, by Azienda Agricola Sapere

Tel.(+39)0565.95033
Elbaworld suggests
Discover places and attractions nearby.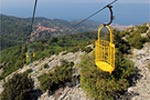 Discover incredibly beautiful excursions on Elba Island.