Seamuseum
The Sea Museum in Capoliveri is located in a new space beneath Piazza Matteotti (Matteotti Square) and opposite via Palestro, in the old town.

With the aim to promote Elban sea, the museum shows Polluce's treasure and its stops; Polluce is a steamship which wrecked offshore Capo Calvo, on the 17th June, 1841.
Along the rooms you will see the objects rediscovered on board, and the greatest treasure found on the ship: a big amount of silver and golden coins, wonderful golden jewelery, and small porcelain statues belonging to the rich passengers. 


When the Polluce wrecked, the priority was to save the passengers' lives, so all the precious belongings and shipment went lost in the Elban sea, even the shipowner Raffaele Rubattino failed when he tried to recover the objects.

At the beginning of 2000 a group of British treasure hunters searched the ship, managed to localize it and recovered the precious shipment under the sea. Luckily, the findings were given back and confiscated before they could reach any auction sale on the British market.
Information about the tour at the Sea Museum
Location

Capoliveri old town, beneath Piazza Matteotti, you can get here walking from via Palestro



Opening Hours

From 14th June to 13th September
Every day 17:00 - 23:30

From 16th May to 13th June and from 14th to 30th September
10:00-13:00 / 16:30-20:00

Prices

€ 2,00 Descount

€ 3,00 Adults

Free entrance for children up to 6 years old and disabled people

Location and Info

Via Palestro – Capoliveri old town

Cosimo de Medici Srl Tel.(+39) 0565.967029 - Cell.(+39)393.9059583

E-Mail address: museodelmare.capoliveri@gmail.com
Elbaworld suggests
Discover places and attractions nearby.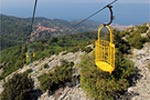 Discover incredibly beautiful excursions on Elba Island.