Mineral museum of Rio Marin
The Mineral Park in Rio Marina is located in the old town and it covers about 600 square meters inside the Palazzo del Burò. The museum is home to one of the most important and beautiful minerals collections on Elba island, including samples of unique value. Beside the minerals themselves, in the museum you will be able to see different mining environments, accurately recreated by industrial archeology specialists who used the original material found in the old construction sites.

The exposition includes old tools and some pictures which tell the mining activity and a piece of tunnel, rebuilt accurately.

After the tour in the Museum, you will continue your mining experience on board on the typical train which will lead you the the open-air mine, where you will have the chance to dig in the pyrite and hematite, and hopefully you will add some important sample to your collection.
Information about the Museum and Opening Hours
Opening Hours

From April to October: 9:30-12:30 / 15:30-18:30

July and August: 9:30-12:30 / 16:30-19:30

Info and Booking: Tel: (+39) 0565.962088

Prices

€ 2,50

Location and How to Get Here

Via Magenta 26 a Rio Marina
Inside Palazzo del Burò, in Rio Marina old towna
Elbaworld suggests
Discover places and attractions nearby.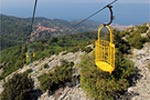 Discover incredibly beautiful excursions on Elba Island.