Biscuit Palace
The Biscuit Palace, as Cosimo I de ' Medici wanted, in the second half of the 16th century, is located in the historical centre of Portoferraio, where it now houses the Municipal Building. In the past the town hall had the task to meet the need of bread in the new medicean town and garrisons until it reaches a production that would later satisfied the requiriments of the entire island.

The current look is the handiwork of the interventions that took place between the 18th and 19th century, and today on the main façade there is a tombstone brings the time when Napoleon was banished on Elba and was a guest of the Palace to mind, before moving to the Palazzina dei Mulini. During the French period in that building took also place recruiting operations of soldiers.

Inside the courtyard of the building is the copy of a Roman altar dedicated to Hercules whose original is exhibited in the Archaeological Museum of Linguella.
Elbaworld suggests
Discover places and attractions nearby.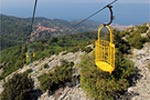 Discover incredibly beautiful excursions on Elba Island.