Forno Etrusco di Capo Pero
The ancient Etruscan furnace of Capo Pero is one of the most important Etruscan archaeological evidence in Elba. Located between the village of Rio Marina and Capo Castello in Capo Pero, to reach the ancient furnace is necessary to carry on along a road on the right, until a small inlet on the sea.

Inside a private property, you can find the remains of the ancient furnace, used to reduction of iron.
Elbaworld suggests
Discover places and attractions nearby.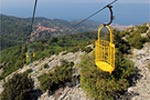 Discover incredibly beautiful excursions on Elba Island.