Campo Monumental Cemetery
The
Monumental Cemetery
of Marina di Campo, was built in 1894 and was discontinued in 1950, when following the construction of the new cemetery, the country began to use the new cemetery. Located at the entrance of
Marina di Campo
on the left side of the B-road of Via to Portoferraio.


The cemetery looks enclosed by a high wall about two meters, with the entrance marked by an iron gate. Inside there is a driveway where the field on the right and left are located the graves. On the inner walls there are many gravestones. The chapels open out in a radial pattern around the central building. On the back, you can see the four apsidal chapels.
Interesting facts
In front of the entrance, there is the Parco della Rimembranza with cypresses dedicated to soldiers who died in World War I. On the right side, there also is a granite monument in memory of soldiers who died during the landing of the Allies (June 17, 1944-World War II). Looking at some old postcards, we noticed that this monument, before being placed where it is today, had been placed next to the beach, just located at the place where had been collected the bodies of soldiers who died during the landing. Thanks to the restoration works, the graveyard is in very good condition.
Elbaworld suggests
Discover places and attractions nearby.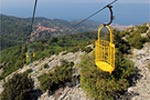 Discover incredibly beautiful excursions on Elba Island.