Rent Motocycle or Scooter
If you want travel by moto at Elba, but you don't have a moto, dont't you worry because you can rent it on line thanks to an efficient renting service. Here you can rent your motocycle or scooter on line to use it during your trip to Elba island. To rent the motocycle you just have to complete a form giving infos on the type of vehicle you desire and characteristics such as capacity and engine, and the renting date. The majority of the vehicles need a B driving license , but if you want a different capacity you can also find somenthing else with the features more adeguate to your needs.
---
Motocycles and scooters are perfect for tourists who want to spend a relaxing holiday without worring about car parking during high season and to move free with no problem. Helmet and insurance policy are always included in the price of the rental service.
Elbaworld suggests
Discover places and attractions nearby.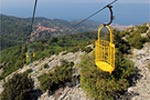 Discover incredibly beautiful excursions on Elba Island.