Active holiday
Elba island is appreciated by athletes or by who would like to spend an active holiday. Elba offers a lot of solution to have an active holiday and not to get bored. You can visit many beaches, and there are many outdoor sports that you can do all year round. An island full of history and monuments with an ancient culture respecting the guest and nature.
In this section you can find the holiday facilities that can offer an active holiday with sports and organized excursions.
Online availability request
Elbaworld suggests
Discover places and attractions nearby.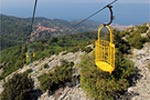 Discover incredibly beautiful excursions on Elba Island.