Holiday with pets
Sometimes spending a holiday with pets can be a problem, this is the reason why we created a page dedicated to them and for whose who want to spend an holiday with them, looking for turistic accomodation and equipped beaches. At Elba there are tourist equipped accomodations to host pets, such as hotels, residences, and flats.
Below we suggest the tourist accomodation structures able to host yout four-footed-friends . Moreover we also suggest you some equipped beaches for dogs like Fonza and Mola.
In Sant'Ilario there is the Castelli di Tesei Marino breeding farm, where you can bring your dog during the holiday and the staff will look after your pets feeding and giving him a lovely bed. Moreover many shops at Elba are pet friendly, in fact you can notice that, out of the door there is a water's bowl to quench yout god thirst. We remember that Elba Island is a place at the risk for the endemic Leishmaniosi contagios, a zoonosis transmitted by the flebotomi and pappataci's thick-borne. For this reason we reccomend you to take some precautions:
Give your dog a specific treatment against parassitis
Use repellent such as Neem oli
Avod night and sunset walking
Let your dog sleep inside during the night
Select all
Hotels
a Marina di Campo
Viale degli Etruschi 207, Marina di Campo (LI) - 57034 Campo nell'Elba
Camping sites
a La Foce
Via del Monumento 628 - 57034 Campo nell'Elba
Residences
a Porto Azzurro
Loc. Santissimo - 57036 Porto Azzurro
Online availability request
Elbaworld suggests
Discover places and attractions nearby.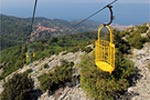 Discover incredibly beautiful excursions on Elba Island.