Cultural holiday
The different architectonical and artistic monuments at Elba, dont' just tell us about past, but they are a real part of it and the "original witnesses of the time". If you think about the history and the culture that different people left on this Island, you will be more and more fascinated by Elba.
Elba is an Island providing a real cultural holiday. Even a short intro to its history to understand the importance that this Island have had in the past due to the many communities who ruled it during centuries, leaving important footprints connected with monuments and masterpieces. In the museums you can find out more on the history of Elba and its remaining charming coming from its richness, an alternative cultural escape and another reason to visi
Elbaworld suggests
Discover places and attractions nearby.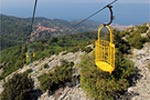 Discover incredibly beautiful excursions on Elba Island.