Elba Ansonica wine, PDO
Elba Ansonica is produced with a minimum of 85% of white Ansonica grapes and a maximum of 15% of other authorized white grapes and its color can vary from straw-yellow to golden.
Ansonica vineyard has a pruned-spur cordon-trained cultivation and the concentration of the cultivation is a minimum of 4000 vine stump per hectare and a maximum production of grapes of 90 quintals per hectare.
The vinification process is usually the white one, but also a characteristic fermentation with the skins can be used. The fermentation take place in steel tanks where the temperature is kept under control during this phase (7 days). After that, there are the phases of stabilization and bottling, generally the spring after the harvest.
Gastronomic pairing: scampi, prawns and shellfish in general
Color: straw-yellow or amber
Aroma: intense, strong, vinous
Flavor: from dry to agreeable, harmonic
Alcohol by volume (minimum): 11.5%
Total acidity (minimum): 5 g/l
Dry extract content (minimum): 15 g/l
Serving temperature: 10o- 12o
Historical background
Ansonica is an ancient Mediterranean vine variety. It is also produced in Giglio Island, Argentario, Sicily and Sardinia. It covers more or less 20 hectares, its production is on average, it grows better in dry and sunny lands. It has a thick and crunchy skin and in the past it was also as table grape.
Elbaworld suggests
Discover places and attractions nearby.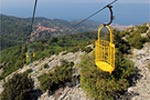 Discover incredibly beautiful excursions on Elba Island.