The mining Park of Rio Marina
The mining Park of Rio Marina was born in order to conserve and to value what is left of nearly three millennium of culture marked by the iron mineral mining and from the man job.
Today the
Mining Park of Rio Marina
can
be visited
and where you will be able to admire the evocative mining yards, which almost remind you of Mars for its conformation and colour. The excursion activities are indicated both for single visitors and for organized groups (adults and students). The visit begins at the
Mining Museum
situated in the historical centre of Rio Marina, then you will continue the excursion in the heart of the open-pit mine, where on board of a
characteristic little train
you will be accompanied by the tourist guides of the mine. You will be able to take a walk along the mining paths and during the visits you will be able to photograph the characteristic and singular landscape. Moreover, during the stops it is possible
to dig and to search mineral samples
you will be able to add to your collection. During the visit in the yard of Valle Giove, the largest of the Elba mines, you will be able to discover small samples of pyrite and hematite to conserve as souvenir of this unique and unforgettable experience.
---
Information:

Parco Minelba

Palazzo del Burò - Via Magenta, 26 Rio Marina 1 - 57038 Italy

Tel: (+39) 0565.962088 - Fax: (+39) 0565.925698

email: info@parcominelba.it
Elbaworld suggests
Discover places and attractions nearby.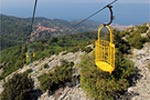 Discover incredibly beautiful excursions on Elba Island.