Spiaggia di Zupignano
Spiaggia di Zupignano Tourist information
Pebbly beach within the Municipality of Rio nell'Elba
Features of Zupignano beach:
Length: 45 meters - Average width: 6 m
Exposed to: Westerlies -
Sheltered to: Southern winds by Punta Falconaia
GD: 42.817943 - 10.368626
GMS Latitude: 42°49'4.598''N - Longitude: 10°22'7.054''E

---
Description of Zupignano beach
This is a very beautiful wild place, almost uncrowded and free of any service. The beach has a natural look: behind it, there is an amazing reef which is formed by reddish jasper arranged in thin horizontal layers. The shore is characterized by thin reddish gravels of any size, which makes also the seabed an interesting spot for snorkelers and divers. The surrounding landscape is characterized by a low Mediterranean maquis rich in rosemary and mastic trees.
Access to the beach of Zupignano
You can reach it only by boat from the nearby seaside resorts of Bagnaia and Nisporto.
Amenities available on this beach
| | | | | | |
| --- | --- | --- | --- | --- | --- |
| | Not accessible by car | | Snorkeling | | Unfrequented |
Elbaworld suggests
Discover places and attractions nearby.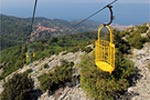 Discover incredibly beautiful excursions on Elba Island.