Spiaggia di Topinetti
Spiaggia di Topinetti Tourist information
Dark bright sandy beach of the Municipality of Rio Marina
Features of Topinetti beach
Length: 200 meters - Average width: 15 m
Exposed to: Easterlies -
Sheltered to: winds from the Northwestern quadrant
GD: 42.837111 - 10.438106
GMS Latitude: 42°50'13.602''N - Longitude: 10°26'17.181''E

---
Description of Topinetti beach
The narrow sandy shore of Topinetti, characterized by crystal waters, is about 200 meters long and it belongs to the mining district of Rio Marina.
This beach has preserved a wild look though it is marked by the intense iron mining activities that have affected the area, which also generated its dark sands. In fact, the shore is composed of iron minerals such as hematite, giving a suggestive show at the sunlight,when the whole beach shines.
The sea looks crystal clear and it is lovely for swimming except on days where the sirocco wind blows. The shore is mostly free to access and there is the possibility to rent sunbeds and umbrellas at a small snack bar. Behind the beach there is also a wide free parking, while on the left side there is a beautiful cliff characterized by iron minerals which gives you an amazing view with its thousand shades. From the beach of Topinetti you can see the islet of Palmaiola and during clear days the view can range from Punta Ala to the Gulf of Follonica.
Access to Topinetti beach
The beach is located along the main road that connects the villages of Rio Marina and Cavo. After about 2 km take the road on the right marked by a sign to the beach. Continue for 300 meters on a road that suddenly becomes dirt until you reach the parking lot of the beach. Shortly before reaching the beach of Topinetti, a fork to the right leads to the beach of Ripa Bianca, which is a stretch of coast about 300 meters long not very convenient for bathing, because formed by large stones, but interesting for its mineral conformation.
Amenities available on this beach
| | | | | | |
| --- | --- | --- | --- | --- | --- |
| | Bar | | Beach sand mixed with gravel | | Free beach |
| | Parking | | Snorkeling | | Visited medium |
Elbaworld suggests
Discover places and attractions nearby.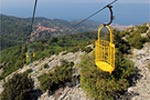 Discover incredibly beautiful excursions on Elba Island.