Cavo Beach
Cavo Beach Tourist information
Pebbly beach within the Municipality of Rio Marina
Features of Cavo beach
Length: 400 meters - Average width: 20 m
Exposed to: winds from the Northeast to Southeast
Sheltered to: Westerlies
GD: 42.860418 - 10.420902
GMS Latitude: 42 ° 51'37.505''N - Longitude: 10 ° 25'15.248''E

---
Description of Cavo beach
Lovely beach located adjacent to the hydrofoil pier and the small marina of Cavo. It is ideal for those who want to quickly reach Elba and spend a pleasant day at sea. This long beach embraces the whole gulf and it is splitted in two the marina that stands in the middle. As Cavo Beach it is meant the left side of the marina, as the first stretch of beach, located on the southern side of the bay is known as the beach of San Bennato. The shore is perfect to be frequented by families with children, since the sea floor slopes gently and the clarity of its water is guaranteed by the continuous currents of the channel of Piombino.

The northern beach stands on the right of the harbor with a length of about 400 meters and it is composed of fine white gravel mixed with sand. Alongside the beach there is a beautiful and romantic walk embellished with palm trees, sculptures and benches.

The southern part of the beach is known as the beach of San Bennato, and it is characterized by a narrow beach of sand and gravel which is about 400 meters long. Two breakwaters, have been artificially created with flat rocks to prevent coastal erosion and they stretch into the sea allowing you to sunbathe over there. In front of the beach you can admire the promontory of Piombino that soars from the horizon and the islet of Cerboli. There are many services guaranteed by the nearby tourist resort that stand behind the beach.

In addition to the many beach services, there are also a sailing school and a diving center in Cavo.
Access to the beach of Cavo
Located behind the marina of Cavo, it is easily accessible by car given the proximity to the road from which it is separated by a beautiful promenade.
Amenities available on this beach
| | | | | | |
| --- | --- | --- | --- | --- | --- |
| | Apartments nearby | | Bar | | Boat rental |
| | Connected to Bus | | Crowded in the season | | Disabled |
| | Equipped beach | | Floating dock | | Free beach |
| | Hotels nearby | | Ice cream shops | | Mooring boats |
| | Nearby grocery | | Parking | | Pebble beach |
| | Restaurants | | Sailing School | | Suitable for Children |
| | Toilet | | Watersports | | |
Elbaworld suggests
Discover places and attractions nearby.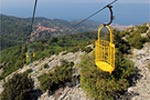 Discover incredibly beautiful excursions on Elba Island.