Ripa Bianca beach
Ripa Bianca beach Tourist information
Pebbly beach within the Municipality of Rio Marina
Features of Ripa Bianca beach
Length: 200 meters - Average width: 10 m
Exposed to: winds from North to South
Sheltered to: Westerlies
GD: 42.833316 - 10.436014
GMS Latitude: 42°49'59.939''N - Longitude: 10°26'9.65''E

---
Description of Ripa Bianca Beach
The beach has a long and narrow shape, characterized by light-colored gravel mixed with dark sand with bright hematite. Due to its rocky conformation, the seabeds are a little uncomfortable for bathing, which keeps it almost uncrowded, but very nice for snorkeling.
Access to Ripa Bianca beach
The beach is about 3.5 km from the village of Rio Marina in the direction towards Cavo. On the right side, along the main road, you have to take a narrow dirt road indicating the nearby beach of Topinetti. After a few meters, at the fork, continue on the right until you reach the beach. The road runs along the entire beach and it is easy to park because is not very busy.
Amenities available on this beach
| | | | | | |
| --- | --- | --- | --- | --- | --- |
| | Free beach | | Parking | | Pebble beach |
| | Snorkeling | | Unfrequented | | |
Elbaworld suggests
Discover places and attractions nearby.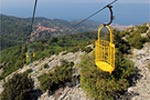 Discover incredibly beautiful excursions on Elba Island.