Porticciolo di Rio beach
Porticciolo di Rio beach Tourist information
Pebbly and sandy beach in the Municipality of Rio Marina
Features of Porticciolo di Rio Beach
Length: 200 meters - Average width: 20 m
Exposed to: winds from Northwest to Southeast
Sheltered to: Southern winds thanks to Capo Ortano
GD: 42.803188 - 10.431651
GMS Latitude: 42°48'11.477''N - Longitude: 10°25'53.942''E

---
Description of Porticciolo di Rio beach
This wild beach of modest size is composed of gravel mixed with sand and seaweed. Due to its difficult access through a complex path, the beach is not so popular even during high season. The beach is free of any service and it is an ideal spot for snorkeling. The shore is comfortable especially during hot summer days, as it is shaded in the afternoon because of its exposure.
Access to the beach of Porticciolo di Rio
To reach the beach you need to take the scenic route which begins from the harbor of Rio Marina. After about 2.5 km, on a road which is paved in the first part and dirt in the second one, you find a few spots where you can park your car and the starting point of a path. To reach the shore, walk down the path, which is bordered by a chain and formed by concrete steps through a holm oak wood and broom trees.
Amenities available on this beach
| | | | | | |
| --- | --- | --- | --- | --- | --- |
| | Free beach | | Not accessible by car | | Pebble beach |
| | Snorkeling | | Unfrequented | | |
Elbaworld suggests
Discover places and attractions nearby.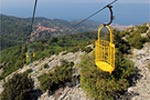 Discover incredibly beautiful excursions on Elba Island.