Capo d'Arco beach
Capo d'Arco beach Tourist information
Pebbly beach within the Municipality of Rio Marina
Features of Capo d'Arco beach
Length: 50 meters - Average width: 7 m
Exposed to: winds from North to South-East
Sheltered to: Westerlies
GD: 42.77825 - 10.434303
GMS Latitude: 42°46'41.7''N - Longitude: 10°26'3.489''E

---
Description of the beach of Capo d'Arco
The beach of Capo d'Arco is located in the homonymous tourist resort, of which access is monitored and allowed only to residents and guests accommodated there during their stay in Elba. The coastline is very nice for snorkeling with a medium-low and jagged cliffs. Located on the right of the resort, there is the main beach called Crocodile, which name comes from a rock that has the appearance of reptile. The small shore is characterized by small smooth pebbles and it is mainly frequented by the guests staying in Capo d'Arco.
Although the beach is not very large, it offers a rental service of umbrellas and sunbeds where the cliffs are lower, comfortable for sunbathing. Alternatively, you can swim in a beautiful sea pool carved into the natural rock.
Access to Capo d'Arco beach
You can access the beach by sea or, if you have permission, by car, driving along the road that from Porto Azzurro leads to Rio nell'Elba. On the right, about 3 km after Porto Azzurro, take the fork to Capo d'Arco and Reale, then continue along the local road towards Reale and turn left following the signs to Capo d'Arco.
Drive uphill the curvy road until the entrance of the residential locality. Access is denied by a bar and controlled by a guard.
Amenities available on this beach
| | | | | | |
| --- | --- | --- | --- | --- | --- |
| | Equipped beach | | Hotels nearby | | Pebble beach |
| | Rocks | | Snorkeling | | Visited medium |
Elbaworld suggests
Discover places and attractions nearby.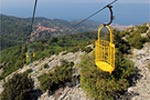 Discover incredibly beautiful excursions on Elba Island.