Cala dell'Alga
Cala dell'Alga Tourist information
Sandy and seaweedy beach in the Municipality of Rio Marina

Features of Cala dell'Alga beach
Length: 50 meters - Average width: 7 m
Exposed to: Eastern winds-
Sheltered to: from all other winds
GD: 42.865584 - 10.420525
GMS Latitude: 42°52'56.106''N - Longitude: 10°25'13.891''E

---
Description of Cala dell'Alga beach
La Cala is considered a place of refuge by the local villagers, in fact the access is not marked and it is more popular among the islanders than tourists. Located North the seaside village of Cavo, La Cala has a wild and natural look. This place is characterized by a small sandy and seaweedy shore, which is protected by a beautiful bay. Behind the beach stands Capo Castello, known for the discovery of a Roman Villa and the terracing dating back to Imperial Age. On the sides of the beach there are reefs composed of wonderful striped rocks, which are frequented by swimmers and ideal for diving and snorkeling. La Cala's waters are shallow and calm, a characteristic which makes it suitable for children. Even if there are no services, they are always guaranteed thanks to the proximity to the village.
Access to the beach of Cala dell'Alga
Although it is a beach which is located almost in Cavo's village, it can be difficult to reach due to lack of information. On the northern side of the village, go for Via Capo Castello and after about 200 meters, turn right and walk down a narrow flight of steps until you reach the cove.
Amenities available on this beach
| | | | | | |
| --- | --- | --- | --- | --- | --- |
| | Apartments nearby | | Beach sand mixed with gravel | | Free beach |
| | Rocks | | Snorkeling | | Suitable for Children |
| | Visited medium | | | | |
Elbaworld suggests
Discover places and attractions nearby.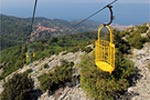 Discover incredibly beautiful excursions on Elba Island.