Scaglieri beach
Scaglieri beach Tourist information
Wide sandy beach within the Municipality of Portoferraio
Features of Scaglieri Beach:
Length: 150 meters - Average width: 12 m
Exposed to: winds from Southwest to North
Sheltered to: winds from South and Southeast
GD: 42.804134 - 10.26972
GMS Latitude: 42 ° 48'14.882''N - Longitude: 10 ° 16'10.99''E

---
Description of Scaglieri beach
The beach of Scaglieri is a nice beach located in the Gulf of Biodola and it separated from the largest sandy shore of Biodola by a short stretch of rocks equipped with a walkway. Located in the middle of the Northern Coast of Elba Island, this small beach is suitable for families with children as its seabed slopes gently into the sea. The beach is partly free and sometimes occupied by beach clubs and rentals where you can rent an umbrella with sunbeds.
The beach has a beautiful clear sea, especially during the days of south wind, and you can find the major tourist services given also the proximity to the tourist resort of Biodola. Near the beach there are accommodations where you can stay and enjoy a pleasant holiday.
Access to the beach of Scaglieri
From Portoferraio you can reach the beach by car, halfway on the road that leads to Procchio. Reached the marvelous Gulf of Biodola, which is about 6 km from the port of Portoferraio, you have to go right downhill for about 2 km until you reach a junction with the sign of Scaglieri. From this point you can reach also the nearby beaches of Biodola and the Forno.
Amenities available on this beach
| | | | | | |
| --- | --- | --- | --- | --- | --- |
| | Apartments nearby | | Bar | | Boat rental |
| | Campsites nearby | | Crowded in the season | | Equipped beach |
| | Free beach | | Hotels nearby | | Parking |
| | Residence near | | Restaurants | | Sandy beach |
| | Snacks | | Suitable for Children | | Suited to Kayaking |
Elbaworld suggests
Discover places and attractions nearby.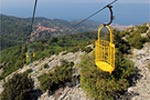 Discover incredibly beautiful excursions on Elba Island.