Ghiaieto di Laconella
Ghiaieto di Laconella Tourist information
Gravelly beach within the Municipality of Capoliveri
Features of Ghiaieto di Laconella:
Length: 170 meters - Average width: 7 m
Exposed to: Southeastern winds
Sheltered: winds from the northern quadrant
GD: 42.753882 - 10.291635
GMS Latitude: 42°45'13.976''N - Longitude: 10°17'28.889''E

---
Description of Ghiaieto di Laconella
The seaside village of Lacona, in addition to the main sandy beach, offers many other uncrowded beaches and coves ideal to relax. One of those is the Ghiaieto di Laconella, a beach located in the Gulf of Lacona which is characterized by big gravels. It is not very comfortable to lie down in the sun, but it is often used as a base for diving and snorkeling. The beach has a long and narrow shape, looking wild and free of services.
Access to the beach of Ghiaieto di Laconella
Coming from the coast or from the sea, the beach is located west of Laconella beach and it can be reached crossing the rocks. Coming from land, you must pass the entrance of Laconella beach for about 500 meters, until you reach a small dirt area where you can park the car and walk along a narrow and steep path down to a few dozen meters until you reach the beach.
Amenities available on this beach
| | | | | | |
| --- | --- | --- | --- | --- | --- |
| | Campsites nearby | | Free beach | | Limited Parking |
| | Not accessible by car | | Pebble beach | | Snorkeling |
| | Unfrequented | | | | |
Elbaworld suggests
Discover places and attractions nearby.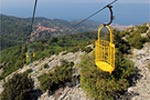 Discover incredibly beautiful excursions on Elba Island.