Innamorata beach
Innamorata beach Tourist information
Sandy beach within the Municipality of Capoliveri
Features of Innamorata beach:
Length: 280 meters - Average width: 25 m
Exposed: winds from the West -
Sheltered: winds from the northern quadrant
GD: 42.710885 - 10.395008
GMS Latitude: 42°42'39.187''N - Longitude: 10°23'42.029''E

---
Description about the beach of Innamorata
The beach is located opposite to the Gemini islets and it is the last that you can reach by land on the eastern side of Mount Calamita along Costa dei Gabbiani, after that the stretch is almost entirely private and therefore accessible only by sea or with permission. The shore consists of sand and small pebbles and it is partly free to access and partly characterized by some well-equipped bathing facilities of all kinds. On the beach there are bars, restaurants as well as beach resorts, rental of paddle boats, canoes and motor boats.
Beautiful the excursions by sea, where thanks to a canoe or a paddle boat you can reach the Gemini islands; there it is in fact worth diving and snorkeling to admire the underwater around the two islands.
We remind you that on the evening of July 14, every year the beach gets lit up by hundreds torches and hosts a procession where people are dressed with historical costumes, recalling the Legend dell'Innamorata.
Beach access to Innamorata
Once in Capoliveri, you must follow the directions towards Pareti - Innamorata and continue for about 4 km along the paved road, until you reach a pay parking.In the summer, we remind you that the beach is served by a convenient shuttle bus that connects the village of Capoliveri to its nearby beaches.
Amenities available on this beach
| | | | | | |
| --- | --- | --- | --- | --- | --- |
| | Bar | | Beach sand mixed with gravel | | Boat rental |
| | Connected to Bus | | Crowded in the season | | Disabled |
| | Equipped beach | | Free beach | | Hotels nearby |
| | Lane entrance for boats | | Parking | | Residence near |
| | Restaurants | | Snorkeling | | Suitable for Children |
| | Toilet | | Windsurfing school | | |
Elbaworld suggests
Discover places and attractions nearby.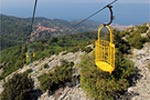 Discover incredibly beautiful excursions on Elba Island.