Spiaggia di Sassi Neri
Spiaggia di Sassi Neri Tourist information
Pebbly beach within the Municipality of Capoliveri
Features of Sassi Neri beach:
Length: 15 meters - Average width: 5 m
Exposed to: Easterlies -
Sheltered: from winds from North to East
GD: 42.738675 - 10.426186
GMS Latitude: 42°44'19.233''N - Longitude: 10°25'34.27''E

---
Description of Sassi Neri beach
The environment surrounding the bay is very beautiful and interesting from a geological point of view. Composed of fine dark gravels, the part of the coast is composed of three small beaches along the cliffs exposed to the open sea.
Behind it stood a long time ago, one of the three mines of Mount Calamita, of which you can still see today the excavation areas, even if part of them are covered again by the Mediterranean maquis. Here is a few meters from the sea even an artificial lake of fresh water, where rainwater has taken the place of the mining site.
Access to the beach of Sassi Neri
Difficult to reach because it is located in a private area of ​​the Costa dei Gabbiani which is basically impossible to reach by road unless you are provided with a permit.
Amenities available on this beach
| | | | | | |
| --- | --- | --- | --- | --- | --- |
| | Free beach | | Not accessible by car | | Pebble beach |
| | Snorkeling | | Unfrequented | | |
Elbaworld suggests
Discover places and attractions nearby.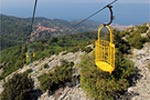 Discover incredibly beautiful excursions on Elba Island.