Calamita Mine Beach
Calamita Mine Beach Tourist information
Small dark gravelly beach in the Municipality of Capoliveri

Features of Calamita MIne beach
Length: 50 meters - Average width: 7 m
Exposed: winds from the southeastern quadrant - Sheltered: from north
GD: 42.710885 - 10.395008
GMS Latitude: 42°42'39.187''N - Longitude: 10°23'42.029''E

---
Description of the beach of Calamita's Mines
Calamita's mines, which once extracted the precious ore from the namesake Mount's underground, have over time contributes to the formation of some small and very peculiar beaches that can be seen along the sea Costa dei Gabbiani. Completely wild and devoid of services, is exposed to south-eastern currents and is composed of dark sand mixed with stones of mineral origin.
Access to Calamita's Mines beach
Overland access is foreclosed by the state for safety reasons since the place housed the old mines which are now disused. But is easy to locate the beach by sea, as it rises below the now abandoned mining complex composed of ruined buildings and machinery that have remained unused for decades.
Amenities available on this beach
| | | | | | |
| --- | --- | --- | --- | --- | --- |
| | Beach sand mixed with gravel | | Free beach | | Not accessible by car |
| | Snorkeling | | Unfrequented | | |
Elbaworld suggests
Discover places and attractions nearby.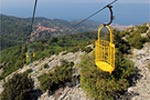 Discover incredibly beautiful excursions on Elba Island.