Spiaggia di Frugoso
Spiaggia di Frugoso Tourist information
Sandy and pebbly beach of the Municipality of Rio Marina
Features of Frugoso beach
Length: 400 meters - Average width: 12 m
Exposed: winds from North-West to North
Sheltered to: Eastern winds
GD: 42.867000 - 10.418365
GMS Latitude: 42°52'1.201''N - Longitude: 10°25'6.114''E

---
Description of Frugoso beach
The beach of Frugoso rises behind the seaside resort of Cavo, which is a few hundred meters away. From there, you can reach it walking along the promenade and then following a path that runs through some houses.
Compared to the main beach in the village, Frugoso has a wilder look and it is splitted into three smaller shores: the main one is a gray sandy and pebbly beach about 200 m long; a smaller pebbly one of about 30 meters; and the last one that stretches more to the tip,measuring over 200 meters, but it is more complicated to be achieved and it is not very comfortable because it is mainly gravelly and pebbly.
The small bay of Frugoso overlooks the little islet of Topi and during the clear days the view can reach the coast of Italy glimpsing Piombino. The main beach is the most popular and it is equipped with a small bar that has paid parking.
Access to Frugoso beach
From the vilage of Cavo, you can reach the beach walking for about 500 meters to the north-east. You can also drive directly to the beach as there is a paid parking lot.
Amenities available on this beach
| | | | | | |
| --- | --- | --- | --- | --- | --- |
| | Bar | | Beach sand mixed with gravel | | Free beach |
| | Parking | | Snorkeling | | Visited medium |
Elbaworld suggests
Discover places and attractions nearby.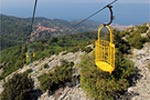 Discover incredibly beautiful excursions on Elba Island.