Le Fornacelle beach
Le Fornacelle beach Tourist information
Beach close to Cavo within the Municipality of Rio Marina
Features of Le Fornacelle beach
Length: 160 meters - Average width: 12 m
Exposed to: Eastern winds
Sheltered to: winds from western quadrant
GD: 42.852749 - 10.434930
GMS Latitude: 42°51'9.9''N - Longitude: 10°26'5.749''E
---
Description of Le Fornacelle beach
The location owns its name to the furnaces that were used to smelt iron ore. The beach has a medium size and it is characterized by an unspoiled environment with a dense holm oak wood grown almost to the sea. This charming and pristine cove is located close to the popular seaside resort of Cavo.

Also known as Cala del Telegrafo, the beach is mostly composed of medium sized pebbles mixed with sand and iron dust that shines under the sun. The right side of the shore is characterized by larger stones up to reach the cliff. The beach is suitable to be visited by families with children, as the seabed slopes gently.

From the beach you can admire the islet of Cerboli which stands in front of it and on a clear day you can see the whole stretch of the nearby Italian coast, as this is one of the closest beaches to the mainland.

This is a great place to relax even in the highest summer period, because it is not so popular among tourists. On the beach you can rent umbrellas and sunbeds, while the services are guaranteed by a nearby bed & breakfast that offers a bar and a very good restaurant, in addition to toilet.
Access to Le Fornacelle beach
From Rio Marina, along the main road that leads to Cavo, 2 km before reaching it, you have to turn left on a small and steep road made of concrete, which is marked by appropriate road signs. After a few hundred meters down the hill you can park the car at the edge of the shore, where the road surface is composed of large pebbles.
Amenities available on this beach
| | | | | | |
| --- | --- | --- | --- | --- | --- |
| | Bar | | Equipped beach | | Free beach |
| | Hotels nearby | | Limited Parking | | Restaurants |
| | Snacks | | Snorkeling | | Suitable for Children |
| | Toilet | | Visited medium | | |
Elbaworld suggests
Discover places and attractions nearby.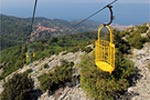 Discover incredibly beautiful excursions on Elba Island.