Istria Beach
Istria Beach Tourist information
Pebbly beach within the Municipality of Capoliveri
Features of Istria beach:
Length: 105 meters - Average width: 8 m
Exposed to: Easterlies
Sheltered: from winds from North to East
GD: 42.743151 - 10.414642
GMS Latitude: 42°44'35.345''N - Longitude: 10°24'52.711''E

---
Description of Istria beach
The beach is within a few minutes drive, and it is mostly chosen by visitors with their dogs. The beach of Istria, also called Istia, is a wonderful natural beach composed of fine gravel, not much frequented and appreciated by those who have a dog, which in this beach are well regarded. Located in a beautiful and unspoilt stretch of coast, where nature runs down until the sea, it is protected south from the rock of Liscoli , an interesting place to dive and snorkel. On the northern side of the beach stretches the rocky structure of the Calanova's tip above which rises a singular pine forest. The back of the beach offers shelter in the shade of plants and pine trees. Although it does not offer services, these are guaranteed by the nearby beach of Calanova located on the other side of the tip to reach in 5-minute walk.
Access to Istria beach
To reach the beach of Istria, you need to follow the signs leading to Calanova beach, where you can park the car and walk passing the bar that borders the private property of the Village Costa dei Gabbiani.
Amenities available on this beach
| | | | | | |
| --- | --- | --- | --- | --- | --- |
| | Apartments nearby | | Beach sand mixed with gravel | | Free beach |
| | Pets Allowed | | Pinewood | | Rocks |
| | Snorkeling | | Suitable for Children | | Visited medium |
Elbaworld suggests
Discover places and attractions nearby.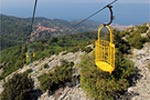 Discover incredibly beautiful excursions on Elba Island.