Spiaggia di Straccoligno
Spiaggia di Straccoligno Tourist information
Sandy beach within the Municipality of Capoliveri
Features Straccoligno beach:
Length: 225 meters - Average width: 9 m
Exposed to: Easterlies
Sheltered: from Westerlies
GD: 42.748398 - 10.406155
GMS Latitude: 42°44'54.236''N - Longitude: 10°24 '22.16''E

---
Description of Straccoligno beach
Surrounded by vegetation between the tips of Capo Perla and Liscolino, Straccoligno offers a lovely and quiet sandy beach. Its beautiful turquoise waters are perfect for snorkeling and along the coast you can quickly reach the nearby beach of Calanova with its two islets.
The cove is surrounded by Mediterranean vegetation, in an almost unspoiled environment which embraces the beautiful sandy beach, ideal for families with children as the shore slopes gently. The beach is well equipped and has the main tourist services such as Residences, Apartments for rent and Hotels where you can spend your holidays in Straccoligno. Among the beach services you can enjoy a beach club, sunbeds, umbrellas, paddle boats, restaurants and bars.
Access to the beach of Naregno
The beach is about 3 km away from the village of Capoliveri, and you can easily reach it by car thanks to the road signs located along the paved road which leads from Mola to Capoliveri. Close to the beach there are both free and pay parkings. Also, like the other beaches of Capoliveri, you can enjoy the summer beach shuttle service throughout the day, which connects Straccoligno to the other beaches and the nearby village.
Amenities available on this beach
| | | | | | |
| --- | --- | --- | --- | --- | --- |
| | Apartments nearby | | Bar | | Connected to Bus |
| | Crowded in the season | | Disabled | | Equipped beach |
| | Free beach | | Hotels nearby | | Limited Parking |
| | Residence near | | Restaurants | | Sandy beach |
| | Snorkeling | | Suitable for Children | | |
Elbaworld suggests
Discover places and attractions nearby.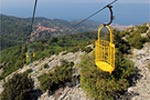 Discover incredibly beautiful excursions on Elba Island.