Spiaggia di Stagnone
Spiaggia di Stagnone Tourist information
Sandy beach within the Municipality of Capoliveri
Features of Stagnone Beach:
Length: 30 meters - Average width: 6 m
Exposed to: Easterlies
Sheltered: from Southwest to North
GD: 42.730164 - 10.431593
GMS Latitude: 42°43'48.594''N - Longitude: 10°25 '53.737''E

---
Description of Stagnone Beach
Stagnone is located at the base of Mount Calamita along the wild Costa dei Gabbiani and it is distinguished by the presence of some low rocks ​​forming almost a small natural pond. In the middle of the cove there are two small beaches named after the natural and wild resort. The two small beaches are composed of sand with the presence of some boulders and are exposed to Easterlies, but the water, located in front of them is quite calm and shallow.
To reach the two beaches is quite challenging that's why they are not very busy, except the fact that they visited by some boats owners passing by during their exploration along the wild coast. The surroundings are very nice with a wild and pristine territory. Going up along the coast to the north, there is the small beach of Capo Calvo, characterized by very beautiful depths and ideal for diving and snorkeling excursions along the coast.
Access to Stagnone Beach
To reach the beach of the Stagnone, by land you must have permission from the Tourist Village Costa dei Gabbiani, as the dirt road crosses their private property and walking there is a bit hard given the distance which separates it from the barriers that block the access. For this reason the beach is almost always deserted even in peak tourist season.
Amenities available on this beach
| | | | | | |
| --- | --- | --- | --- | --- | --- |
| | Free beach | | Not accessible by car | | Unfrequented |
Elbaworld suggests
Discover places and attractions nearby.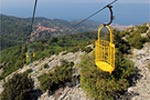 Discover incredibly beautiful excursions on Elba Island.