Malpasso beach
Malpasso beach Tourist information
Sandy and pebbly beach within the Municipality of Capoliveri
Features of Malpasso beach:
Length: 40 meters - Average width: 7 m
Exposed to: Northeastern winds -
Sheltered: from Northern to Southern winds
GD: 42.743104 - 10.414727
GMS Latitude: 42°44'35.175''N - Longitude: 10°24 '53.02''E

---
Description of Malpasso Beach
The beach of Malpasso is one of the several eastern coves located along the pristine coastline of Costa dei Gabbiani. Malpasso is characterized by a small sandy and pebbly shore, which is exposed to the winds blowing from the northeastern quadrant. The beach, which is immersed in the green of the low Mediterranean maquis, is quiet and uncrowded, as it is not easy to reach by land and therefore ideal for those seeking tranquility.
At both sides, the beach is sheltered by headlands: at West, Punta Cala Nuova separates it from the neighboring beach of Ferrato Due; while the eastern headland divides it from Calanova beach.
Access to Malpasso beach
To reach Malpasso beach, you must take a path along the dirt road that from Straccoligno leads to Calanova. You find the entrance next to a bend on a scenic area, about 1.2 km away from Straccoligno, where begins a challenging downhill path through the Mediterranean maquis, until you reach the small beach.
Amenities available on this beach
| | | | | | |
| --- | --- | --- | --- | --- | --- |
| | Beach sand mixed with gravel | | Free beach | | Not accessible by car |
| | Pets Allowed | | Unfrequented | | |
Elbaworld suggests
Discover places and attractions nearby.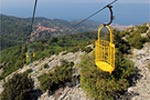 Discover incredibly beautiful excursions on Elba Island.