Spiaggia di Ferrato
Spiaggia di Ferrato Tourist information
Sandy and pebbly beach within the Municipality of Capoliveri
Features of Ferrato beach:
Length: 85 meters - Average width: 15 m
Exposed to: Northeastern winds -
Sheltered: from Northern to Eastern winds
GD: 42.745720 - 10.408188
GMS Latitude: 42 ° 44'44.592''N - Longitude: 10 ° 24 '29.479''E

---
Description of Ferrato beach
The beach of Ferrato includes two small shores separated by a reef. The one located to the right of the central rock is called Ferrato Due, while the most northern one is called Ferrato Uno. The sandy and pebbly shore has a reddish color and it is entirely surrounded by the Mediterranean vegetation that gives to this place a natural and wild look, in addition to the presence of stranded algae. The beach is uncrowded, without services and it owes its name to the intense iron mining activities which occurred in the Roman period. In fact, there are several traces of ancient iron smelting slag that look dark, compact and spongy. Although it lacks services, Ferrato is frequented by families with children and by dog owners who want to relax in a natural and uncontaminated environment, where the clear and shallow waters, together with the thick vegetation growing behind make this a very impressive beach.
Access to Ferrato beach
In order to reach Ferrato from Straccoligno, drive along the road towards Calanova, until you are close to the end of the paved road (which is about 200 meters after). Near a pink house and a street mirror pole, just 100 meters before the end of the paved road, go down for few meters on a comfortable marked path until the beach.
Amenities available on this beach
| | | | | | |
| --- | --- | --- | --- | --- | --- |
| | Apartments nearby | | Beach sand mixed with gravel | | Free beach |
| | Limited Parking | | Pets Allowed | | Residence near |
| | Rocks | | Snorkeling | | Unfrequented |
Elbaworld suggests
Discover places and attractions nearby.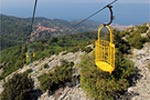 Discover incredibly beautiful excursions on Elba Island.