Spiaggia Capo Perla
Spiaggia Capo Perla Tourist information
Gravelly beach within the Municipality of Capoliveri
Features of Capo Perla beach:
Length: 30 meters - Average width: 7 m
Exposed to: the winds of the East -
Sheltered: from the other winds by the cape of Punta Perla
GD: 42.751944 - 10.408049
GMS Latitude: 42°45'6.999''N - Longitude: 10°24 '28.977''E

---
Description of Capo Perla beach
Behind the lush Punta di Capo Perla, there is a charming little bay surrounded by the Mediterranean maquis. Its wild look and the absence of services turn this small beach in a true paradise for sunbathing, relaxing, snorkeling and diving along this interesting stretch of coast. The small pebbly shore is sometimes covered by stranded seaweed and due to its hidden location it remains uncrowded. From the beach you can also reach the ramparts of the fort with a nice little walk.
Access to Capo Perla beach
The access to the beach is not signposted, thus once you reach Naregno, you must walk towards the Fort, from which left side comes off a path that leads to the beach through a short and low vegetation.
Amenities available on this beach
Elbaworld suggests
Discover places and attractions nearby.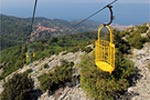 Discover incredibly beautiful excursions on Elba Island.